Open House
An invitation to discover IRCAM's technological applications and research, to test augmented instruments, gesture-sound interactions, vocal transformations, 3D sound, and more. The invention of playing: discover new professions connected to digital practices and test objects born of the imagination of artists and researchers on the place Stravinsky as well as in IRCAM's labs and studios. Conferences, technology demonstrations, artistic performances, encounters with the researchers, and the discovery of the plurality and diversity at IRCAM today.
PLACE IGOR STRAVINSKY
3:30, 5:30 | Concert
Daniel Ciampolini percussions
IRCAM Computer Music Design Frédéric Voisin
Steve Reich Clapping music
Daniel Ciampolini Du sable, de l'air et de l'eau
Iannis Xenakis Psappha

4:00, 6:00 | Installation Ping-Song
GROUND FLOOR
Stravinsky Room
Science and technology conferences
An overview of the research teams: recent work and new horizons

3:30 | Composition, Improvisation, interaction with manchines
Presenter: Gérard Assayag
4:30 | Sound Analysis and Synthesis
Presenter: Axel Roebel
5:30 | Interaction Sound Music Movement
Presenter: Frédéric Bevilacqua
6:30 | Sound Spaces: A Technological Panorama
Presenter: Olivier Warusfel
LEVEL -1
Nono Room
Information Desk Educational Programs

Learn about the programs developed by the department of Education and Cultural Outreach during the academic year.
Paysages composés, discover six sound installations in different locations throughout IRCAM. The installations were created by the students in the interior design program at the Lycée Chérioux in Vitry-sur-Seine during the Artistic and Cultural Education program. Inspired by Tania Mouraud's installation Ad Nauseam at MAC/VAL, the students rethought the notion of space in its sonorous dimension using recordings of their daily environment and audio processing techniques.
LEVEL -2
Shannon Room
Sciences and Technology Conferences

3:30 | Operation of Musical Instruments and Associated Technologies
Presenters: Joël Bensoam et Adrien Mamou-Mani
4:30 | Analyzing the Creative Process
Presenters: Nicolas Donin et Alain Bonardi
5:30 | The Perception of Sounds for Sound Design Applications
Presenters: Patrick Susini et Nicolas Misdariis
6:30 | The Professions of IRCAM
Presenters: Geoffroy Peeters, researcher (6:30), Julien Aléonard, sound engineer (7:00) and Serge Lemouton, computer-music designer (7:30)
Galerie
3:00 | Moving Musical Performance
3:00—9:00 | Web Audio Applications
Offices, Labs and Studios
Demonstrations and Encounters with the Research Teams

3:00—9:00:
A205 | Musical Indexation
A206 | Sound Signal Processing Informed by Physical Models
A23 | Analysis, Synthesis, and Representation of the Voice and Music
A24 | Studies and Experiments in Psychology and Sound Design
A27 | Instrumentale Acoustics
Studio 1 | 3D Sound Spatialization
Studio 4 | Virtual Reality – 3D Visual-Auditive Immersion
Studio 5
Demonstrations and Performances
3:30 | Presentations of the IRCAM Tools Software
4:30 | Concert – Mixed Music Program
5:30 | Collective Sound Checks
6:30 | Interactif Karaoke
LEVEL -4
Espace de projection – Foyer

Interactive Installation Collective Loops
The research carried out at IRCAM is carried out in the context of the mixed research lab STMS (Sciences et technologies de la musique et du son)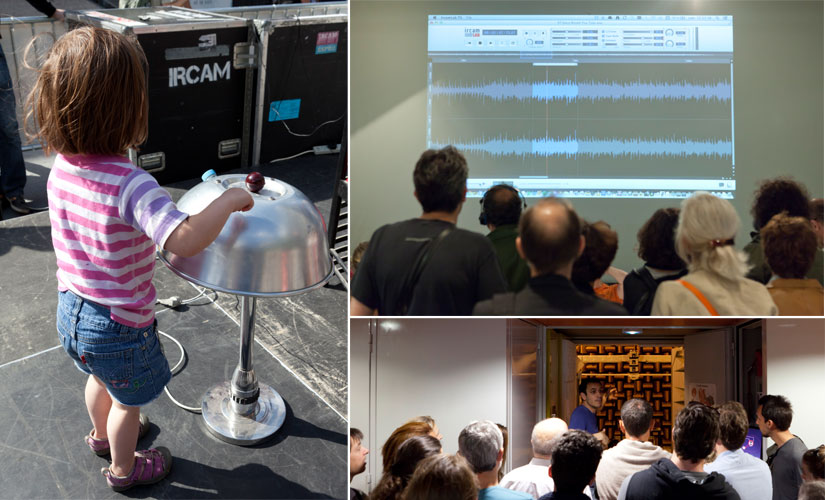 An IRCAM-Centre Pompidou production. A part of the 6th edition of the Nouveau festival Air de jeu (April 15– July 20). With the support of the CNRS, the Mairie de Paris and the Sacem.