Il se trouve que les oreilles n'ont pas de paupières Discovery Pack
La haine de la musique (lit. Hatred of Music) by Pascal Quignard places music in proximity to night, death and the origin of man. Using this intense poetic background, the composer Benjamin Dupé parallels Pascal Quignard's language with his own music. A stage shared by an actor, a string quartet—an emblem of the classical era—and electronics. The depth of the text, erudite and perceptive, a conference and a confession, a political speech and mediation, responds to the sonorous virtuosity, its character of dance, its ostinato, and its driving power. From celebration to exhaustion, La haine de la musique endeavors to enunciate and, above all, make the extraordinary be heard because Il se trouve que les oreilles n'ont pas de paupières (lit. It Turns Out that Ears Don't Have Eyelids)… (Pascal Quignard).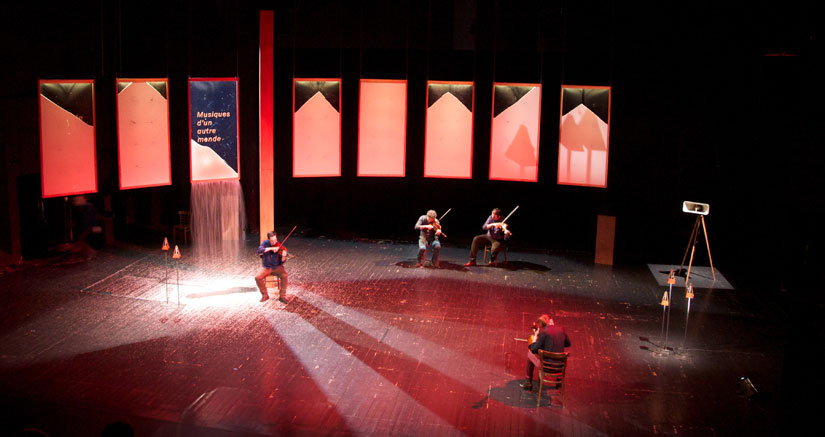 With Pierre Baux (actor) and the Quatuor Tana
(Antoine Maisonhaute, Pieter Jansen, Maxime Désert, Jeanne Maisonhaute)
Conception, music, dramaturgy and production Benjamin Dupé
Text based on the book La haine de la musique by Pascal Quignard (Éditions Calmann-Lévy, 1996)
State Design Olivier Thomas
Lighting Design Christophe Forey
Lighting on Tour Christophe Bruyas
IRCAM Computer Music Design Manuel Poletti
Assistant producer Laurence Perez
Sound on Tour Laurent Sellier
Costumes Sabine Richaud
Tuesday, June 9, 8pm, at the Chinois de Montreuil
Encounter-interview with Benjamin Dupé around Il se trouve que les oreilles n'ont pas de paupières.
A Le Phénix scène nationale Valenciennes, IRCAM-Centre Pompidou, La passerelle scène nationale de Gap, Le Merlan scène nationale à Marseille coproduction. Executive producer Comme je l'entends, les productions. With the support of the DRAC Provence-Alpes-Côte d'Azur, the Provence-Alpes-Côté d'Azur region, the Conseil général des Bouches du Rhône, the city of Marseille, the Adami, the Spedidam, and the Sacem.